I've long been a fan of author Elizabeth Gilbert.
I have read most of her books.  Of course the famous memoir  "Eat Pray Love" (I've found people either love it or strongly dislike it).
I devoured all 500 pages of the beautiful novel "The Signature of All Things."
Both the memoir and that fiction spoke to my love of travel, exploration, kindred spirits, and learning to love and accept one's self.
It's been fun to watch Gilbert grow from an author to a public figure/guru.  She writes regularly on facebook and today her post made me stop and shout, "YES, THIS."
"You will know the call of your destiny, because it will sound insane. "
". . . That's your LIFE calling."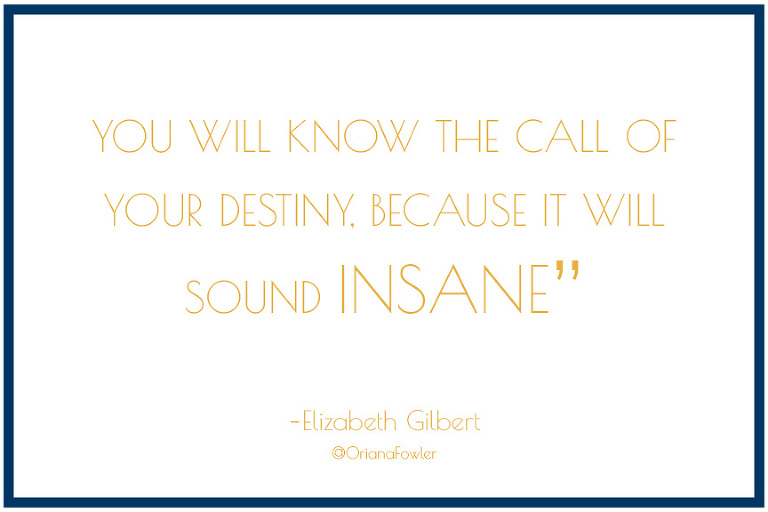 Insane and yet… not.
I wouldn't be a photographer today if I didn't take a Does-This-Actually-Make-Sense turn in life, moving to Costa Rica to accept a job in portrait and surf photography. And yet as soon as I did, it became clear all my life was preparing me for it.
I am so grateful for the last five years in Costa Rica.  Yet in the moment of take-off  it was, just a little . . . out there.
 

"That's your LIFE calling.  We are not messing around here anymore. We do not have time for anything less. What do you seriously think we came here to do, you guys? Be good? Be nice? Be responsible? Not make waves? . . . Keep things filed away neatly, and focus on flow-charts? Find a cleaner for your bathroom tub that scours without scratching? Collect Delta Sky Miles?

Or did you come here to walk across the miles of sky that constitute the dangerous, weird, ridiculous, messy, ecstatic, magnificent, mystical journey that is the once-in-an-eternity experiment of the universe that is called YOUR LIFE?"
While not every word resonates with me, the overall sentiment has me nodding a big Yes.
Yes to love, yes to appreciation of our authentic selves. Yes to reflecting on intention and perspective.
And filling in the question in my own heart… what do you seriously think we came here to do, you guys?
Love,
~ Oriana

Quotes are excerpted from Elizabeth Gilbert's public post here.